Suffering from drug addiction can be intense and difficult for many people. Substance abuse is a condition that affects the body in a series of ways and takes a toll on the mind. What's typically overlooked when thinking about treatment is how and why a person started using substances in the first place. This is why therapy for addiction is part of almost every instance of drug addiction treatment. 
Therapy can help repair relationships and get to the root of a person's addiction. Additionally, planning for the future and learning techniques can mean the difference between relapse and sobriety. Therapy is a vital part of growing and leaving the life of addiction behind you for good. 
Don't wait to turn your life around; you can get the help you need today! Quality drug rehab centers like ours here Silver Linings Recovery Center can offer several personalized therapy options for you and your family.
We understand that addiction can be a crippling situation for everyone involved. Therapy for addiction can help individuals understand and change their behavior for the better. We have a staff of experienced and passionate therapists and counselors waiting to help you towards recovery today. 
The Importance of Therapy for Addiction Treatment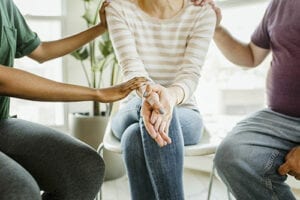 The mind plays an integral part in addiction treatment. Usually, a substance or drug can take hold of a person completely. Their entire life can be consumed by a particular substance, oftentimes they become dependent on it. After detoxification, these physical symptoms fade away. However, the person is still at risk of relapsing. 
It is important to understand the root of your addiction while building skills to combat negative thoughts and possible relapse. These techniques and instances are available during therapy for addiction. With life's stresses, some of a person's cravings and triggers can be hard to cope with alone. Therapy offers a new beginning and an understanding of one's mind, behaviors, and thoughts. 
Triggers such as certain places, people, or stimuli in an environment can trigger strong cravings to use a substance again. Without proper skills or mental stability, a person can easily fall victim to relapse. Through your journey, you will learn to cope with these triggers and cravings while coming to terms with your addiction and past. 
What are the Benefits of Therapy for Addiction?
Therapy for addiction has its many pros in the long-run. In certain cases of co-occurring disorders (when a person is struggling with an addiction and a mental disorder), therapy can be helpful. These cases can be very intense and severe (usually requiring residential treatment). However, with specialized therapy, a person can begin to cope with both conditions effectively. 
Other benefits of therapy for addiction include the following:
Helps identify and change distorted ways of thinking 

Helps change a person's negative and self-defeating behaviors and thought processes

A great way to focus on mental health disorders first and creating a plan for treatment

Helps the person learn specific skills and coping mechanisms for the future
The Different Types of Therapy (Addiction Treatment)
There is not just one type of therapy that works for all cases of drug addiction. With this in mind, it's important to know that not all therapy options will work for you. Addiction treatment usually includes a combination of group and one-on-one (individual) therapy. Professional therapists will help you learn techniques and strategies for dealing with your personal hardships and possible stresses. 
In cases of co-occurring disorders, mental disorders like depression and anxiety are also discussed during therapy. While addiction is one of the main problems, there are other aspects of a person's life that can actually be the root cause. Treating both the physical and psychological aspects of addiction is crucial for long-term recovery and sobriety. 
Cognitive-behavioral therapy (also known as CBT) is one of the most commonly used forms of treatment. CBT uses different forms of behavioral therapy and focuses on the thoughts and feelings of the individual. More specifically the negative thoughts and patterns that influence a person's troubling behavior. The connection between a person's feelings, thoughts, and behaviors is the primary focus of CBT for addiction treatment. 
A typical session usually consists of therapists coaching and mentoring the individual through their negative thoughts and feelings (associated with addiction). Oftentimes, people struggling with addiction will have distorted perceptions and thoughts. This can affect a person's rationale and thought process. These inaccurate thoughts can be damaging to a person's recovery. 
Understanding and working through these can be essential to recovering from addiction and the person's negative mindset. These sessions are usually 45-60 minutes long and are done in a private, individualized setting. One of the good things about CBT is the length of the therapy. CBT usually lasts between 5 and 10 months for emotional issues. Cognitive-behavioral therapy is also used for both addiction and mental disorders. 
Motivational Interviewing (MI)
As the name suggests this method is used to motivate a person towards change in a positive manner. This model of therapy focuses on trying to figure out what a recovering individual wants and how they can achieve it. This does not focus on what the therapist wants or thinks in terms of the patient. Often, people recovering from addiction might be unmotivated or insecure about changing their behavior. 
MI takes just a few sessions (typically an hour or so each) to complete. MI uses a series of steps to accomplish a change in a person's mindset. These steps include the following:
Engage –

Discussing the person's issues, hopes, and concerns. This includes building a strong relationship between the therapist and the person

Focus –

This step focus on narrowing down towards the patterns and habits a person wants to change

Evoke –

This stage involves encouragement and motivation for the individual towards their goals. This heightens the importance of change and readies them for change

Plan –

This is where the therapist and the person create a set of realistic and achievable steps that the person can implement in their daily life
Dialectical Behavior Therapy (DBT)
Dialectical behavior therapy (DBT) is a method that is similar to CBT. DBT was actually originally used for intense cases of mental illnesses and for those with suicidal thoughts. However, over the years many rehab centers have found DBT to be quite useful in cases of drug addiction treatment. Dialectical behavior therapy is now used during therapy for addiction and can be very beneficial in the long-run. 
DBT can be used for post-traumatic stress disorder (PTSD), bipolar disorder, depression, and eating disorders. In cases of co-occurring disorders (including some of the conditions listed), this type of therapy can be very useful. Dialectical behavior therapy is a process that is based on the idea that mental health is caused by the world around us and a mix of vulnerable behaviors.
Also, DBT helps individuals come to terms with what they can and cannot control their lives. While in therapy, a person is able to learn techniques and social skills to deal with life's stresses. This mix of validation and balance helps a person move forward with change. These individualized sessions focus on past traumas, current triggers, while also implementing group therapy as well. Another unique feature of DBT is the ability to call your therapist at any time for guidance (with discretion of course). 
Contingency Management (CM)
Contingency management (CM) is an advantageous method that's used for many types of addiction. This approach is a technique that works to encourage people to stay sober while enforcing this idea. CM uses a number of material rewards to encourage positive behaviors while maintaining a life free of drugs. 
There are several material rewards, which include:
Vouchers – Vouchers are used during CM to reward negative drug tests. A person can trade in these vouchers for specific items (that support and encourage recovery). The value of these vouchers continues to increase over time. 

Natural Rewards – If a person stays sober and clean, there may be times where a person is rewarded naturally. A sense of confidence and achievement can be felt with every passing day. This can help a person improve their relationships and overall wellbeing. 

Prizes – Certain prizes can be given out during treatment if a person completes clean drug tests and attends treatment. These prizes typically range in value and work similarly to a lottery system
Individual therapy allows those in recovery to have one-on-one counseling sessions with a therapist. This can be beneficial in that it enables individuals to discuss their personal and specific needs with a therapist without the fear or discomfort that might occur in group therapy settings. Individual therapy is can be most helpful for those who are beginning the journey to recovery. But it is also beneficial for individuals who are continuing on the road to a life free of addiction.
Group Therapy
Group therapy is usually part of every single treatment plan for addiction. This type of therapy typically consists of fellow addicts coming together with the guidance of a counselor. During these sessions, a person listens to other people's stories and can share their own. Knowing that you are not alone and being able to hear other people's stories can be therapeutic. Creating bonds and sympathizing with others is vital to a successful recovery.
Family Therapy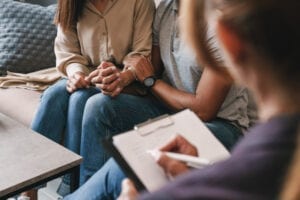 One of the most important aspects of recovery is a healthy household. Many people may be in a toxic relationship or may have severed ties to their families. Family therapy uses access to therapists to improve communication and relationships with loved ones. The ultimate goal is to fix dysfunctional households and enabling behavior together. Creating unity in a family can be tough but essential for long-term recovery.
The Importance of Getting Help
Therapy is just one of the many treatment options available to you. Addiction can be a crippling disease that affects you physically and mentally. Sometimes it's required to find the root of your addiction and try to reconcile the past. These distorted thoughts only make things worse over time. This is why therapy is so crucial to long-term recovery in the future. While it can be tough to choose the perfect therapy, doing nothing is not an option. 
Don't Wait to Get Help
Regardless of how you got here, what matters is getting help. The effects of addiction only get worse as time goes on. Silver Linings is here to help you towards a better future, for you and your loved ones. Therapy for addiction is an essential part of recovery and drug treatment. It's never too late to get help and you are not alone in your struggles. Let us help you today. Contact us today if you have any questions or want more information on treatment options.
Call us to speak with a drug and alcohol addiction treatment expert, and get on the path to rehabilitation today.
FREE No Obligation Call .... GET HELP NOW
Silver Linings Recovery Center is open, accepting new clients, and is here to support our recovery community during this pandemic. If you have ANY questions feel free to give us a call at (844) 546-4644 and one of our directors will work with you or your loved one the care you need.